Note: This site is a personnel on going blog for creating a Windows 10 handheld PDA from a PC stick and a five inch HDMI screen. It's construct is that of using the web space to assemble items,ideas, a record of the development and the issues for creating the device. The site will never be in a refined state. It is not intended for public viewing but its link will be shared by the author with others for help and advice to and from other interested parties. Improvements to the web site as of when convenient to the Author.
Current State of Development Thursday, July 12, 2018
The device shown above uses a 5" screen, a Stick PC, an articulated HDMI cable adapter and a loose battery. They are combined together with an improvised mocked up wooden case to make it robust enough to be portable.
Practical Use
Windows 10 is not really user friendly for 5 inch screens running in portrait mode. Some of dialog boxes get trimmed on the right edge. The desktop file panel is narrowed and a full name display of programs is not shown. It is however still manageable.
Touch Pointing
The PenMount Controller installs a cursor which uses pen touch pointing not a a mouse pointing cursor. If shown an option to install as a mouse it is not advised. If installed as mouse the touch keyboard will not show when text fields are tapped and will not automatically pop up for logging in at startup.

The settings are not straight forward to get to. Do Not use Windows 10 settings but get to the control panel. Use tablet key word in search. Select Tablet PC settings > the other tab > then the Go to Pen and Touch link. See Using a Stylus Page
PenMount Gestures
A PenMount Gestures program which installs with the PeMount controller progam does not work with Windows 10.
Windows 10 Gestures Settings.
A problem I found while running a desktop publisher program. Stylus movement on the screen pans the desktop publisher page around the applications work area instead of moving DTP objects around the page. This panning can be stopped by a registry tweak. See here

"HKEY_CURRENT_USER,Software\Microsoft\Wisp\Touch\PanningDisabled=1"
A resistive touch panel with a USB PenMount controller is used to overlay the LCD screen for an on screen pointer to be controlled by a stylus. Also to use on an on screen keyboard. See Hard Ware Page
Running Windows Software
Many Programs made for Windows are optimised for lager screens 8 inch and above.
Programs such as Libre Office Calc, Writer, Windows Notepad and word can be used comfortably with 5 inch screen. The Graphics Program Gimp was also comfortable to use for small images.
Other programs more suited to larger screens such as Desk Top Publishers which have table frames and graphic images which have border handles for sizing and reshaping can be manipulated for changes. See Here.
HDMI STICK PCs and Battery Packs.
The computer used for battery powered portable device are HDMI Stick PCs. I currently have two of these. They came My original PC Sick for testing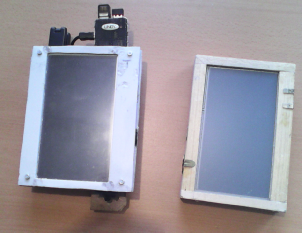 Two builds for 7 inch screens.

A new build for 5 inch screen.
Plastic case Construction
Current State of Development Friday 1 November 2019
Top Kangaroo Plus Mini PC
Has its own built in Battery
64gb embedded hard drive
Operating System Needs to be installed


Bottom PC Stick 64bit
A variety of these sold on Ebay
My current 2 makes called W5 ACPC
Windows 10 Pro Installed with Licence.
32gb embedded hard drive
Creating a portable handheld device for Windows 10.
The other pages on this website are really the authors on going notes to keep a development record for a 5 inch HDMI resistive stylus touch screen to be used by a Windows 10 OS Stick PC. It is not intended for general public viewing but available and could be seen by others that have a some common development interest. The pages are not refined and contain web page errors and imperfections which may or not be improved on over time.